The Centre for Medieval Studies sponsors a number of book series and journals to promote scholarship on the Middle Ages, published primarily by the Pontifical Institute of Mediæval Studies and University of Toronto Press (UTP). In addition, UTP independently publishes a number of titles in Medieval Studies.
See Recent Faculty Publications for the latest publications in Medieval Studies from the University of Toronto.
Publication Series
Dictionary of Old English
The Dictionary of Old English defines the vocabulary of the first six centuries (AD 600–1150) of the English language, using twenty-first century technology. The DOE complements the Middle English Dictionary (which covers the period 1100–1500) and the Oxford English Dictionary, the three together providing a full description of the vocabulary of English. It is available online and in print.
The Dictionary also produces a series of research tools and studies in the Publications of the Dictionary of Old English.
Fons Luminis
Fons Luminis is an interdisciplinary journal of Medieval Studies run by graduate students of the Centre for Medieval Studies. It provides graduate student medievalists with a forum in which they can write short articles to address, challenge, and explore not only the content of Medieval Studies, but also the methodologies of our various home disciplines.
Journal of Medieval Latin
The Journal of Medieval Latin has been established by a group of Canadian scholars for the purpose of encouraging new and original investigations in the field of Medieval Latin language and literature. It also produces the Publications of the Journal of Medieval Latin as a venue for original book-length studies in the general field of Medieval Latin language and literature.
Records of Early English Drama
Records of Early English Drama (REED) is an international scholarly project that is establishing for the first time the broad context from which the great drama of Shakespeare and his contemporaries grew. It publishes the REED/RED Collections.
Toronto Anglo-Saxon Series
Toronto Anglo-Saxon Series focuses on all aspects of Anglo-Saxon history, culture, and literature. TASS features original monographs, essay collections, and critical editions of primary sources with translations and scholarly commentary. Works focus mainly though not exclusively in the areas of social history, myth and religion, prose and poetry, oral history, literacy, manuscript studies, art and material culture, law, entertainment, science and medicine, weapons and warfare. Its general editor is Andy Orchard.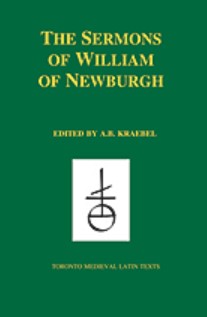 Toronto Medieval Latin Texts
The Toronto Medieval Latin Texts series provides pedagogically suitable and affordable editions for university-level courses in Medieval Latin. At the same time, it aims to further original research by publishing texts hitherto unedited. In the case of texts multiply witnessed, it offers reliable single-manuscript versions of particular textual, historical, and codicological interest and importance. The series takes the position that scribal makers of such versions were important participants in the ongoing development of the text. The manuscript witness is emended only to restore sense, rather than trying to reconstruct an original authorial version. Manuscript orthography and syntax are carefully preserved. Each volume include an introduction, a select bibliography, annotation, and (if necessary) a glossary. The series welcomes the submission of new texts: proposals may be sent to the series editor, David Townsend.
Toronto Medieval Texts and Translations
Toronto Medieval Texts and Translations is designed to make available new scholarly editions and/or translations of medieval texts, in Latin and the vernaculars.
Toronto Medieval Video Collection
The Toronto Medieval Video Collection presents films on a number of medieval topics, in addition to performances of plays by the Poculi Ludique Societas.
Toronto Old English Studies
The Toronto Old English Studies Series was originally conceived to serve the needs of Old English scholars by providing new critical editions of texts. Over time the parameters of the series were broadened to include collections of essays and studies of specific themes and texts in Old English literature. The series is now complete.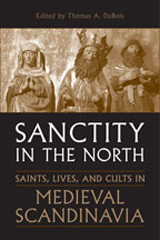 Toronto Old Norse-Icelandic Series
The Toronto Old Norse-Icelandic Series aims to promote and encourage the publication of important monographs, collections of essays, translations, and other ancillary works to serve a range of scholars, students, and general readers in the field of Old Norse and Icelandic studies. Its general editor is Andy Orchard.
Toronto Studies in Medieval and Early Modern Rhetoric
Toronto Studies in Medieval and Early Modern Rhetoric is a new series focusing on work in early European rhetorics. The editors invite submissions in the following areas: editions and translations of medieval or early modern rhetorical texts, with substantial introductions; historical studies of the development of rhetoric from the early Middle Ages through the Early Modern periods; monographs on medieval or early modern rhetorical theory, or examining how rhetoric functions as the vehicle for literary production in particular texts; monographs employing rhetorical theory to explore exegesis, medicine, literature, philosophy, historiography, or another area of medieval and early modern discourse; essay collections on medieval or early modern rhetoric, including studies of a particular historical development or rhetorician, or of a concept such as metonymy or allegory. Inquiries may be sent to Jill Ross.
Toronto Studies in Medieval Law
The objective of the Toronto Studies in Medieval Law series is to provide a venue for publication of English-language studies on the ius commune and the most recent scholarship in the field. Medieval Europe was a maze of overlapping and competing legal jurisdictions, where norms varied widely from region to region. Nevertheless, from the twelfth century onwards, lawyers also spoke of a ius commune or 'common law' that transcended the laws peculiar to individual jurisdictions. This common law consisted of the great compilations of canon and Roman law and was the subject of instruction in the law faculties of all European universities until the seventeenth century. Because of the dominance of the English common law tradition in the former British Empire, theius commune traditionally received little attention from Anglo-American scholars. The post-war period, however, has witnessed an unprecedented influx of Anglophone scholars into the field, often with a view to exploiting juridical sources for insight into a wide range of historical phenomena. Its editor is Lawrin Armstrong.
Toronto Studies in Romance Philology
A witness to the 'international' character of medieval Romance culture, Toronto Studies in Romance Philology will not be limited to French or any other of the major Romance languages, but will include high-level scholarly monographs, editions, edited conference proceedings, or other collective volumes on any subject within the area of medieval Romance languages and literatures. Prospective authors should submit a brief written proposal to the editors: Dorothea Kullmann; David G. Pattison; Franco Pierno; and Francis Gingras.