Our party of medievalists arrived in Freiburg on a crisp autumn day, welcomed to the site of the conference by clear skies and a relaxing afternoon in the Altstadt. Although the weather had turned grey and misty by the next morning, the charm of the venue and the warmth of our hosts did not fade. I was one of twelve Toronto attendees at the Interdisciplinary Graduate Student Conference ("Art, Language, Knowledge. Urban Life in the Middle Ages") held from the 3rd to the 5th of November with the PhD program of the University of Freiburg. These three days, packed with engaging presentations and lively discussion, did not lack for fine food and good company. It was a promising beginning to a new tradition of collaboration between our institutions.
Early on Thursday we were treated to a tour of the old city and the Münster by Pia Eckhart and Vanina Kopp, two of our hosts and fellow participants. After lunch, the conference began in the lecture hall of the Haus zur Lieben Hand at the Albert-Ludwigs-Universität, our first afternoon covering matters philosophical. Each session consisted of a student presentation, faculty commentary, and general discussion. That first day, Alice Hutton, Rachel Bauder (CMS), and Ueli Zahnd (Freiburg) each attempted to unravel a scholastic knot with the help of their respective respondents, Profs. Felix Heinzer, Maarten Hoenen, and John Magee.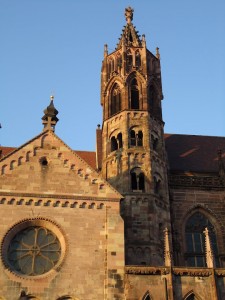 Friday morning, after a delicious dinner at a local brewery and a good night's rest, we heard the papers of Pia Eckhart and the Centre's Chris Miller, which were paired with the reflections of Lawrin Armstrong and Freiburg's Henrike Manuwald. Lunch that day was held in Haus zur Lieben Hand, just downstairs from the conference hall. My own presentation and the papers of Benjamin Kram and Vanina Kopp (Freiburg) were that afternoon's entertainment; Jürgen Dendorfer (Freiburg), Joe Goering, and Suzanne Akbari introduced the discussions following each paper. We ended the evening at a local pizzeria, a low-key night after an exhausting day.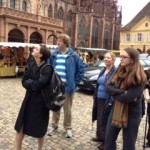 To be brief, the final four papers were delivered by Jakob Heller and Bent Gebert of the University of Freiburg and Toronto's Peter Buchanan and Emily Blakelock, and the faculty respondents were Martin Pickavé, Markus Stock, Birgit Studt, and Nikolaus Henkel. By the time we closed the conference on Saturday, each participant seemed exhausted by three days of intense conversation and engaged listening. We would have been much worse off, however, had our hosts not taken such care with our comfort. Special thanks must go to Harald Wohlfeil, who helped direct the conference and managed our stay. Next fall's colloquium will be an excellent experience for our community and, if we can meet Freiburg's challenge, for Freiburg's participants as well.
Daniel Jamison, PhD Candidate, Centre for Medieval Studies